Optionality is Back in Blackberry's Shares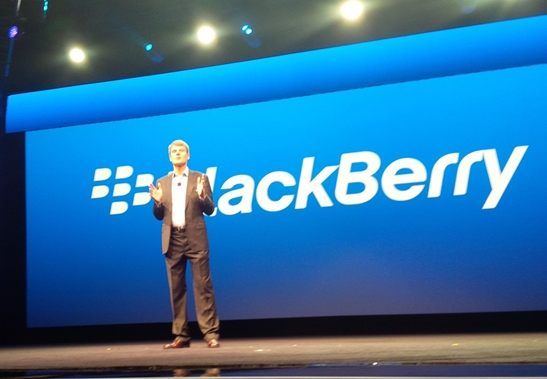 The next Blackberry (NASDAQ:BBRY) breakthrough may not be hardware but software. A prescient question was recently posted on a popular Blackberry fan website: If you can get a BlackBerry that can run Android apps just as smoothly why get an Android phone? This renewed speculation about what Blackberry has up its sleeve came about after its shares surged by more than 7% on Monday after speculation that Blackberry is about to release a new handset dubbed the Z30 that supposedly has a 5 inch screen, a faster chip, and an improved battery life. This may or may not be the reason for the stock surge. After dropping nearly 40% since reporting earnings on June 27 any jump in the shares may be attributed to short covering as more than 160 million shares, representing 1/3 of the float, are sold short.
Back in November of 2012, I wrote here about the optionality inherent in Blackberry's shares which were, incidentally, trading at current levels – around $10. This was before the release of the company's much anticipated Blackberry 10 operating system devices. The thesis was that the potential success of the new phones warrants more upside in the stock given the company's solid balance sheet which should limit downside risk. The stock went on to reach a high of $18.32 in late January just before the official BB10 release date on January 30. Following my own advice I had sold my position and moved on to other stocks.
I think the shares are worth another look after having seen them drop significantly after the last quarterly earnings report. There are 3 main reasons that give the shares renewed optionality at these price levels.
1) We are yet to see full quarter unit sales figures for the company's flagship device, the Q10, which has the standard Blackberry keyboard. The Q10 was released internationally in late April and in the US in June. Because the company reports on a fiscal quarter and not a calendar one, its last quarter included results from March , April and May which means that US Q10 sales were not included in its disappointing fiscal Q1 earnings report. Because of its limited product portfolio, Blackberry's results can be volatile and a single product can materially change results. This volatility is one key to optionality embedded in the shares. BB10 device roll out is still in its early stages and it is too early to call it a failure.
2) The company's CEO Thorsten Heins hinted at the company's annual meeting that he is open to all strategic alternatives. More importantly, one notable action that the company took making its popular Blackberry messenger BBM App available on other platforms such as Android and Apple's iOS making way for BBM to be a standalone mobile social network. Samsung is the first hardware maker to incorporate BBM on its devices. I believe this is an important step and a marked change in strategic thinking at the company. What I think we are seeing is a step in formalizing and highlighting the 3 key divisions that the company operates in: Hardware, enterprise software & network services, and mobile social networking. Those three divisions are certainly very intertwined right now but I am speculating that the company is taking tangible steps to delineate them putting it in a better position to divest one or more at some point. With more than $5 in cash per share as of the last quarter,  and with shares trading between $9 and $10 currently you are basically paying less than $5 for all of those divisions – IP included.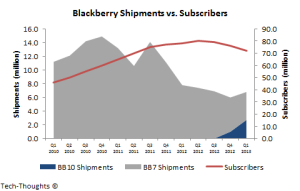 3) Just as I started this article, software is probably a major key factor in the company's turnaround. Given the company's recent subscriber trends – company lost 4 million subscribers last quarter – a major imperative is to stop the decline in subscriber growth and hold on to its more than 70 million subs as of last quarter. Software in my opinion will be a key factor in this. BB10 and its enterprise counterpart BES 10 are made to be adaptable to Android and iOS. Since Android is open source it is more likely that you will start seeing more and more Android applications running on your Blackberry. This has not happened yet but all indications point in this direction. One of the main knocks on Blackberry was the lack of availability of the quantity and quality of Apps available on Android and Apple's iOS. If you have a device that can run most Android apps, at least, then that is one reason for current subscribers to stick with their current Blackberry device – it will certainly reduce churn.
For all of the above reason I am comfortable with the risks and rewards and willing to invest in Blackberry shares at current levels. I am fairly confident that as the fiscal second quarter earnings date approaches, currently scheduled for release on September 27, many short sellers and many investors will pile into the shares ahead of what will likely be another market moving earnings report.
Chart Courtesy Sameer Singh / CC BY 3.0
Tagged BB10, Blackberry, NASDAQ:BBRY