About Those Great Fourth Quarter Earnings

If you tuned in, even sparingly, to any financial news outlet lately you would have probably heard a talking head or two attribute the recent rise in stocks to improving earnings. While it is true that 2012 fourth quarter earnings for the S&P 500 came in better than 2011 fourth quarter earnings on a GAAP basis, the reality is if you strip out the allowed accounting shenanigans and other onetime items and compare Operating Earnings (Income from goods or services and excludes interest, taxes and one time and unusual items) you get a picture that is less rosy to say the least. The more troubling aspect is that Q4 is not the first quarter to experience a year over year decline in quarterly operating earnings growth. As we noted before, Q3 2012 was the first quarter since Q1 2010 to experience such a decline. Once you realize that these are EPS (earnings per share) growth estimates and that S&P 500 companies have actually been buying back their shares then the absolute level of operating earnings looks even worse.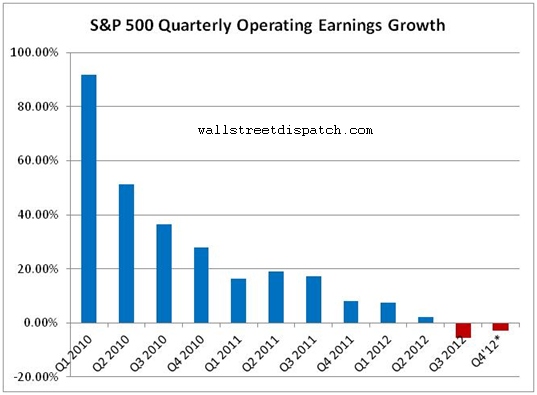 Source: Standard & Poors
While GAAP earnings were up 7 percent in Q4 2012 compared to Q4 2011, operating earnings actually declined 2.5% on top of a 5% decline in Q3 2012 versus Q3 2011. One can argue that Q1 2013 operating earnings are expected to grow by 5.4% according to S&P but if you realize that this was the case for expectations for Q4 estimates at the beginning of earnings season (estimates were for 6.5% growth versus 2.5% actual decline) and if you look at the trend for estimates (below) for Q1 2013 operating earnings then you realize that you should not put a lot of faith in estimates and wait for actual results.
Source: Standard & Poors as of 3/7/2013